Why does UK-produced children's media need support?
British children's media – especially on the BBC, Channel 4, ITV and Five – has been widely acknowledged as amongst the most creative and innovative in the world.  But changes in children's viewing patterns, and the ban on certain types of advertising to children, have put huge strains on commercial broadcasters.
Despite the large number of channels on offer, UK kids are facing a diminishing choice of programmes as commercial broadcasters retreat from kids commissioning.
This is mainly a product of the significant decrease in advertising revenue around children's programming which makes it no longer commercially viable.  As the number of channels available to children has grown, so the advertising market has fragmented.  Added to which, restrictions in advertising certain types of food to children has further decreased the available budget for fully-funded quality children's TV.
It means that the days of Worzel Gummidge, Press Gang, Art Attack and My Parents are Aliens on ITV are long gone.
ITV
Until 2006 the UK's second largest kids' TV commissioner, ITV has since closed its internal production department, stripped all the kids' airtime from ITV1, and spends nothing like the £35 million which supported children's production only a few years ago.  They have commissioned a number of advertiser-funded factual programmes in the last couple of years, but with nothing like the budgets of their previous drama and factual content.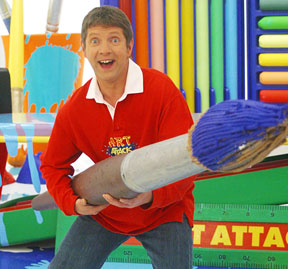 The regulator Ofcom was powerless to stop ITV taking these steps, due to the status of children's programming laid down in the 2003 Broadcasting Act.
Channel 4
Channel 4 no longer makes programmes for young children but – after Save Kids' TV lobbying – have taken up catering for the 10+ age-group, which is acknowledged as seriously under-provided.  In November 2010 they announced two interactive commissions for 10-14 year-olds along with their customary teen content, and have guaranteed a further £1 million set aside for 2011-12 for this age group.  But there are no plans for new television programming.
Channel FIVE
FIVE  has cut back their children's programming.  Having previously commissioned documentary content for older children, they now only provide programmes for younger children, in their Milkshake block.
The International Channels
Disney, Nickelodeon and Cartoon Network produce some programming in the UK, but not enough to fill the commissioning gap.  Much of that has to be international in its focus so that it can be used on their channels in other territories, and this is a common feature of decreasing budgets across all channels (including the BBC) – that programme makers will seek to make their shows more internationally viable to benefit from co-production fnance, which inevitably makes them less focused on UK life and our kids' stories.
The BBC
Meanwhile the BBC is also commissioning fewer drama and factual programmes and seeking more international co-productions.
There was good news in July 2010 when the BBC announced that "outstanding children's content" was one of its five editorial priorities (an unprecedented committment which followed strong SKTV lobbying of the BBC Trust).  This helped BBC Children's avoid the worst of the c urgent round of cuts, but the migration of children's content away form BBC ONE and TWO and exclusively onto the children's channels, will have to be carefully monitored for any indication of decreasing commitment.
And it must be remembered that the BBC is now a near-monopoly commissioner of UK produced content.  Monopolies are not healthy. They stifle creative competition and lead to questions like "why spend so much when our competitors don't…?"
Facts and Figures
The October 2007 Ofcom report on children's broadcasting revealed that despite the appearance of enormous choice in children's viewing, the many channels offer only a tiny number of programmes produced in the UK. The figures are shocking.  Only 1% of what's available to our kids is new programming originated here.  What makes up the other 99%? Repeats and imports.  This isn't good enough.
The Ofcom Public Service Report (July 2009) indicated that UK first-run originated hours of Children's programmes broadcast on the five main PSB channels and on CBeebies/CBBC fell by 51% between 2004 and 2008 – from 1,887 hours to 919 hours.  This fall continued in the 2010 report, though mitigated by increases at the BBC and S4C.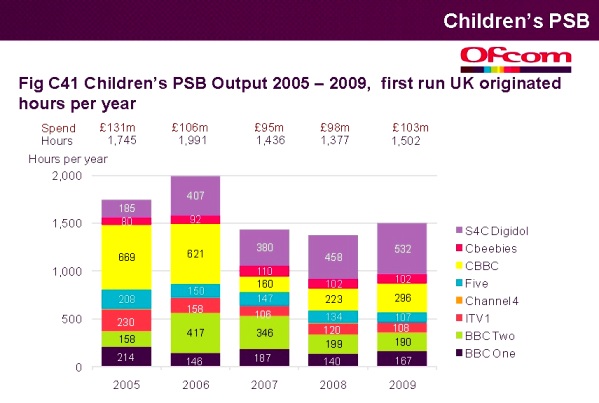 Investment in first-run originated children's programming by these channels fell by just over a third in the same period, with spend by the commercial PSBs down from £42m to £11m.  By 2009, despite additional BBC and S4C investment, overall spending figures on new production were still lower than in 2005.
British kids are losing out.  Their choice is limited and their diet restricted to mainly American imports. No-one would suggest that American programmes are all bad.  Many of them are entertaining, stimulating and excellently produced.  However, we want to see a mixed diet of programming so that kids get a window on their own world as well as the wider world around them.
Other countries protect their children's content and the industries which provide them. Now our government needs to do the same by ensuring there is additional public funding or new sources of finance for kids' media content. With a world-beating industry in collapse and UK kids losing out as their viewing becomes predictable and homogenised, we need new ways of thinking about financing and distributing public service content for children.